Dagan started his life out as a guide dog in training. At the age of 16 months, he was released from his training program due to luxating patellas. He's now just a dog, living and loving the people who raised him.
Sunday, December 25, 2011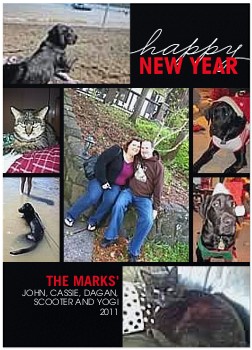 Happy New Memories New Year's Card

Posted by

Cassie & The Dogs
at 4:44 PM
0 comments

Sunday, December 18, 2011
I know! I've been MIA lately! Sooo much to do this time of year, ya know! Now that it is cool outside (or cold - whatever) I'm back to going to work with Dad most days. Lovin it!
BUT, I have also been practicing for my
ORT
which was yesterday. My last practice run at class was ok, but not fantabulous. In previous classes, I have done great, but my "find" looks different with the funny white boxes, so sometimes Mom has a hard time reading my alert. I'm a rock star, but sometimes Mom messes up reading me.
Sooooo... What happened at the test?? I ROCKED IT!!! 14.4 second find. Not my all time best time of 6.7 seconds, but rockin!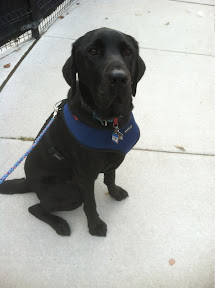 (Dagan in his search harness, waiting for his turn)
Now, on to competitions!! Yippy!
Wags,
Dagan
Posted by

Cassie & The Dogs
at 9:05 PM
1 comments